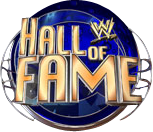 WWE HALL OF FAME:
Class of 1993: Andre the Giant
Class of 1994: Arnold Skaaland, Bob Brazil, "Nature Boy" Buddy Rogers, Chief Jau Strongbow, "Classy" Freddie Blassie, Gorilla Monsoon, & James Dudley
Class of 1995: Antonio Rocca, "Big Cat" Ernie Ladd, George "the Animal" Steele, Ivan Putski, The Fabulous Moolah, The Grand Wizard, & Pedro Morales
Class of 1996: "Baron" Mikel Scicluna, "Captain" Lou Albano, Jimmy "Superfly" Snuka, Johnny Rodz, Killer Kowalski, The Valliant Brothers (Jimmy & Johnny), Pat Patterson, Vincent J. McMahon
Class of 2004: Don Muraco, Greg "the Hammer" Valentine, Harley Race, Jesse "the Body" Ventura, Junkyard Dog, Sgt. Slaughter, "Superstar" Billy Graham, Tito Santana, & Pete Rose
Class of 2005: Hulk Hogan, "Rowdy" Roddy Piper, "Cowboy" Bob Orton, Jimmy Hart, "Mr. Wonderful" Paul Orndorff, Nikolai Volkoff, & the Iron Sheik
Class of 2006: Bret "Hitman" Hart, Eddie Guerrero, "Mean" Gene Okerlund, "Sensational" Sherri, Verne Gagne, "Mr. USA" Tony Atlas, The Blackjacks (Mulligan & Lanza), & William "The Refrigerator" Perry
Class of 2007: "American Dream" Dusty Rhodes, "Mr. Perfect" Curt Hennig, Jerry "the King" Lawler, Nick Bockwinkel, Mr. Fuji, Wild Samoans (Afa & Sikia), The Sheik, & Jim Ross
Class of 2008: "Nature Boy" Ric Flair, "High Chief" Peter Maivia, "Soulman" Rocky Johnson, Mae Young, Eddie Graham, Gordon Solie, & Brisco Brothers
Class of 2009: "Stone Cold" Steve Austin, Ricky "the Dragon" Steamboat, "Cowboy" Bill Watts, Koko B. Ware, Terry & Dory Funk, Jr; The Von Erichs (6) & Howard Finkel
Class of 2010: Antonio Inoki, Wendi Richter, Maurice "Mad Dog" Vachon, Gorgeous George, Stu Hart, & Bob Uecker
Class of 2011: "Heartbreak Kid" Shawn Michaels, "Hacksaw" Jim Duggan, "Bullet" Bob Armstrong, Sunny, Drew Carey, Abdullah the Butcher, & Road Warriors w/ "Precious" Paul Ellering
Class of 2012 To Be Announced
WWE Hall of Fame Ceremony Dates & Locations:
1994 Hall of Fame: June 18, 1994 (Omni Inner Harbor International Hotel in Baltimore, Maryland)
1995 Hall of Fame: June 24, 1995 (Marriot Hotel in Philadelphia, Pennsylvania)
1996 Hall of Fame: November 16, 1996 (Marriott Marquis in New York, New York)
2004 Hall of Fame: March 13, 2004 (The Hilton Hotel in New York, New York) Night before WrestleMania 20
2005 Hall of Fame: April 2, 2005 (Universal Amphiltheatre in Los Angeles, California) Night before WrestleMania 21
2006 Hall of Fame: April 1, 2006 (Rosemont Theatre in Rosemont, Illinois) Night before WrestleMania 22
2007 Hall of Fame: March 31, 2007 (Fox Theatre in Detroit, Michigan) Night before WrestleMania 23
2008 Hall of Fame: March 29, 2008 (Amway Arena in Orlando, Florida) Night before WrestleMania 24
2009 Hall of Fame: April 4, 2009 (Toyota Center in Houston, Texas) Night before WrestleMania 25
2010 Hall of Fame: March 27, 2010 (Dodge Theater in Phoenix, Arizona) Night before WrestleMania 26
2011 Hall of Fame: April 2, 2011 (Philips Arena in Atlanta, Georgia) Night before WrestleMania 27
2012 Hall of Fame: March 31, 2011 (American Airlines Arena in Miami, Florida) Night before WrestleMania 28
---
2012 WWE Hall of Fame
MEXICO CITY - Triple H has announced that Mil Mascaras will be inducted into the WWE's Hall of Fame 2012 class in Miami in April! The announcement was made in Mil Mascaras' native country in front of the WWE Universe in Mexico City Sunday night. (WATCH: WWE.COM EXCLUSIVE) Mil Mascaras was...
>>
---
WWE Hall of Fame Photo Gallery
---